Our Thought Leadership Strategy
We start with personal branding
You may be at the cutting edge of your industry, have multi-sector experience or the makings of a revolutionary product, but if you can't articulate your USP and categorise your different areas of expertise, potential customers or partners will struggle to understand your value.
Before we can find PR opportunities we identify and differentiate the most powerful talking points for you or the leading figureheads in your organisation.
Getting you or your senior executives into the media casts you as an expert, brings credibility to your brand, pushes your name up search results and gives you authoritative content to share on your own channels.
We don't do generic pitching nor write press releases (it never leads to coverage). We tailor appropriate pitches for opinion pieces, contributor articles, profile pieces, podcast interviews, reactive quotes or speaking engagements.
Next, we boost results with content creation
We don't just create 'more content' to add to the noise. As former journalists and producers, we research topical trends to write informed reports, intelligent blogs or produce quality podcasts that actually add value to your audience.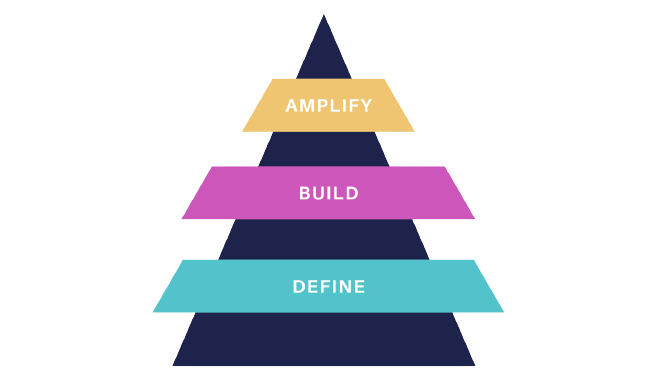 Personal branding to define your expertise
Personal branding strategy
Your expertise is the basis of thought leadership. We start with a strategy call which enables us to:
Define your USP and messaging
Develop media worthy story angles
Identify your industry talking points
Write a professional media bio
Digital profile audit
Your digital footprint is what signals your credibility. As part of our initial strategy, we'll monitor:
Review search engine results to inform our strategy
Optimise your Linkedin profile
Review content and SEO of business or personal websites
Personal PR to build your profile
Media coverage
Having your name appear on media websites makes you more visible and provides backlinks to your website. We routinely secure:
Opinion pieces
Advice articles
Other thought leadership or contributor articles
Profile pieces
Expert quotes used in news or features
Radio or podcast interviews
Podcasts allow you to discuss industry insights and get in front of highly targeted audience. Our media team:
Find the top ranking podcasts relevant to your target audiences
Secure guest interviews
Prepare you for the interview with key messages
Create assets such as clips and graphics for sharing
Thought leadership article writing
As former journalists we write in a way that the media will publish. Rely on us to:
Suggest topical thought leadership article ideas
Pitch and place them in the media
Ghostwrite, co-write or edit as needed
Get rid of your corporate or academic jargon (sorry, we have to!)
Public speaking opportunities
Whether online or in-person, speaking events enable you to inspire and lead discussion. We help you:
Identify target events - from conferences to webinars to festivals
Secure appearances - from keynotes, to panels to webinars
Develop storytelling for a memorable talk
Industry awards
Being nominated or shortlisted for industry awards brings validation for your work. We will:
Research relevant awards
Draft applications or nomination forms
Coordinate endorsements
Media training and messaging
Our trusted pool of national journalists deliver virtual media training sessions covering:
How the media find guests and what they want from them
Practical exercises to consolidate your talking points
Common interview techniques used by journalists
Techniques to handle difficult questions
Content creation to amplify your authority
Linkedin management
For business leaders and executives, Linkedin is an increasingly prevalent tool to network and qualify expertise. Rely on us to:
Optimise your profile so you're found more easily
Identify and post topical industry stories
Identify and engage with target influencers
Promote the coverage we secure for you
Create graphics and other visual content
Thought leadership content creation

While PR showcases your eminence on third party sites, creating your own content drives traffic to your services. We produce:
SEO-optimised blogs to drive traffic
Newsletters to engage audiences
Your own podcast to impress new leads
Your own video series to show authenticity
Your own webinars to connect you to influencers
Book consultancy
Whether you are formulating a book idea, trying to find a publisher or need a ghostwriter. We love to:
Develop a book synopsis and research relevant publishers
Edit your book manuscript or ghostwrite your first draft
PR your book, or your author career
Website creation
Your website is your calling card for your services and expertise. We partner with a web creation agency and ensure we:
Write copy in line with your personal branding strategy
Implement content SEO after researching keywords
Implement technical SEO (XML sitemap, security certificate, metadata)
Integrate social media and media coverage