We work with founders, CEOs, consultants, investors, authors, academics and other public intellectuals at all points of their career.
Often clients come to us because their online profile doesn't do justice to their portfolio of accomplishments and they want to become a key person of influence. So, we help them build and amplify their personal brand. Or, our clients have produced a brilliant piece of thought leadership - a book, a podcast, a white paper or movement, and they want to get it out to a wider audience. They want to put their name and their content on the map!
Whatever your current status, we are experts in shaping and raising your professional profile.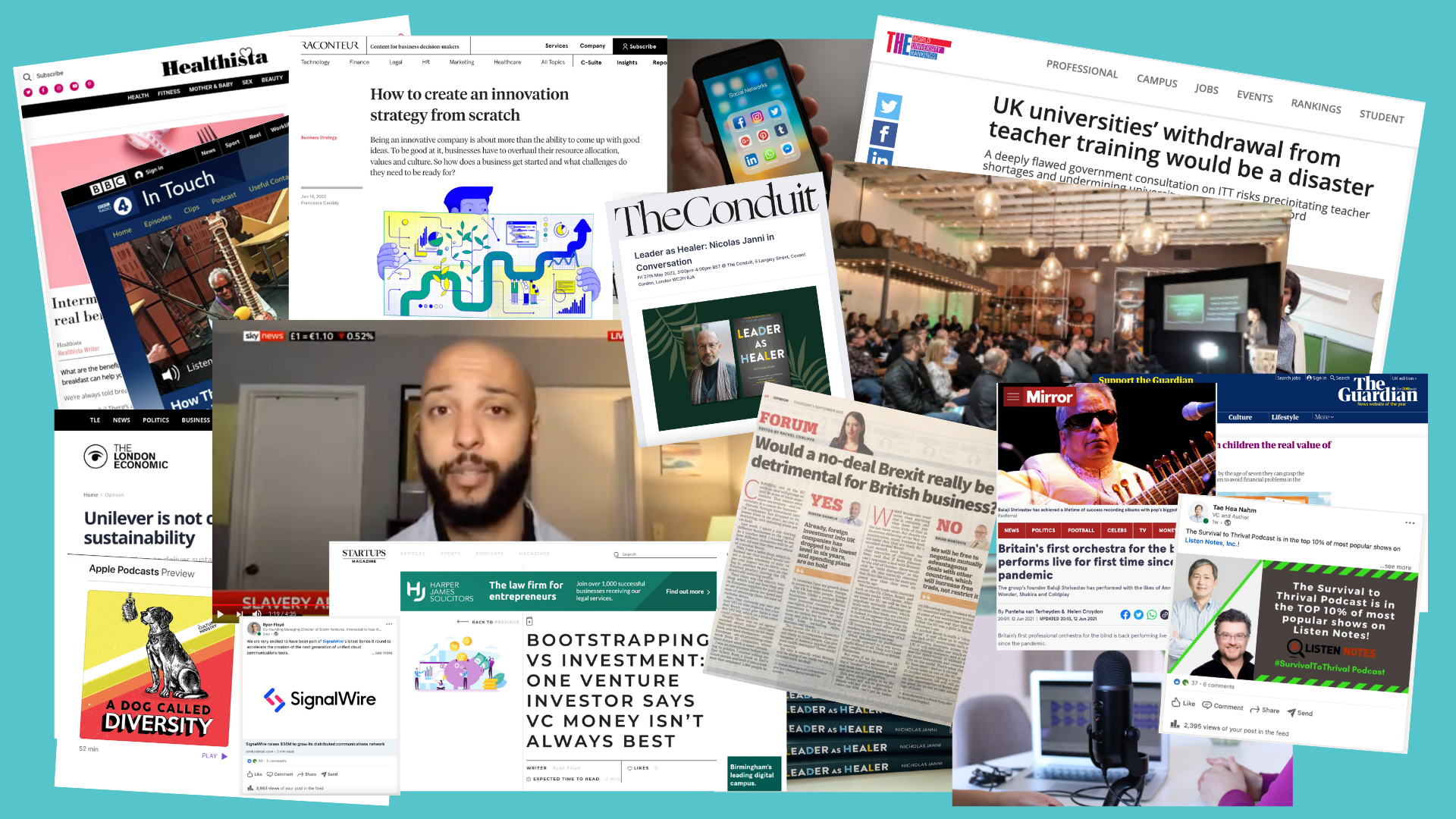 Personal PR for Investors and VCs
Thought leadership is the best tool for investors to attract deal flow because there is demand from business publications for unique advice on growing and scaling businesses.
Entrepreneurs are one of the most content-hungry demographics. That's great news if you are a thought leader in the making because there is a whole eco system of talks, websites, podcasts and more where you can be heard by start-ups or other investors.
Case Study
Tae Hea Nahm and Ryan Floyd
Cofounding MDs of Storm Ventures
Storm Ventures is an established Venture Capital firm in Silicon Valley investing in mid-sized tech and SaaS start-ups. Co-founders, Tae Hea Nahm and Ryan Floyd wanted to raise their profile as investors in the UK and Europe to increase 'deal flow' from outside the traditional start-up hub of Silicon Valley.
Tae Hea Nahm is the author of a book series called Survival to Thrival. Using his books, we secured guest contributor articles in business publications, international speaking slots at Collision Conference and SaaStock, launched a Survival to Thrival podcast and drove Amazon reviews and testimonials.
For investors and VCs we recommend the Full-Service Personal PR
Personal PR for Founders and CEOs
In today's digital world, a CEO needs to be the human face of a business. It's no longer acceptable to hide behind a corporate quote on a press release, which has no real meaning.
CEOs need to manage their profiles like minor celebrities. Customers want to know their opinions on industry-wide topics; the media want to know their vision; entrepreneurs want their leadership advice.
We work instead of, or in addition to, an existing comms team focussing on a senior leader's personal profiles.
We helped a department president in Samsung develop his LinkedIn presence. With a passion for solving the world's sustainability issues through technology, he wanted to be at the forefront of leading conversations around tech for good. But like many highflyers he neither had the time nor the knowledge to get the best out of social media.
We worked closely with the in-house comms team to optimise his profile, engage with the right influencers and create a calendar of creative posts. Alongside our work, we used our expertise to promote a personal project to support start-ups in the tech-for-good space.
For start-out entrepreneurs we recommend our Personal PR Kickstarter programme. For those with an established business of 10+ employees we recommend the Full-Service Personal PR
The very fact that you are a writer means you will have loads of fresh ideas, opinions and unique advice - which are dynamite to the media! .
Our personal approach to book PR leverages the stories and expertise of the name behind the book, rather than just the book itself. This means we focus on opinion pieces, advice articles, radio interviews and talks - far more than you'd get by sending out a press release! .
Case Study
Anat Deracine
Author of the novel Driving by Starlight & short stories about inequality in Tech
Anat Deracine (pen name) had an unlikely entry into the world of authorship. Having started her career in Silicon Valley she witnessed the unequal representation of women, especially women of colour, in the industry. This led her to write a series of short stories including The Divine Comedy of the Tech Sisterhood/ Her transition to full-time author was solidified with her latest novel, Driving by Starlight.

Our team honed in on Anat's international upbringing, her professional career in tech, plus her wealth of knowledge on how to write a novel to jump on a range of media opportunities. We secured two podcast interviews, several opinion pieces on issues from diversity in tech to modern western narratives in literature, an online talk, as well as supporting her social media strategy.
For new authors we recommend our Author PR Kickstarter. For authors who want to go the the next level and have more budget, we recommend our Full-Service Personal PR
Check Out our Author Kickstarter
Personal PR for Politicians
For politicians, a visible profile is essential not only to win the support of the electorate, but within their own party for career progression.
Politicians are expected to be thought leaders. They are searched for on social media; they are sought after for comment in the media; they are called to Hustings and expected to know everything. While it's essential that they know party policy, in today's digital world it is equally important to show personality and genuine passion.
Case Study
Dinesh Dhamija MEP (Liberal Democrat)
We worked closely with Dinesh from him throwing his hat into the ring for nomination to be an MEP candidate, to getting elected in the European Parliamentary Elections in May 2019.
We secured opinion pieces on influential political platforms, radio interviews and quotes in London regional press.
We worked closely with Lib Dem HQ to create a targeted social media campaign and build a personal website compliant with the party. Once elected, we worked with his research team in Brussels to keep abreast of the policy he was working on. From that we secured reactive media interviews on the developing Brexit saga, placed opinion pieces in mainstream publications, managed his social media output and facilitated other promotional content such as videos and leaflets.
For established politicians with funding we recommend Full-Service Personal PR. For those self-funded we recommend our Personal PR Kickstarter
Check out our Kickstarter Plan
Personal PR for Business Coaches
Competition is fierce in the business coaching or mentoring world.
Those who are most successful have a particular approach and a personal framework for helping their clients solve problems.
Leadership coaching / consulting or mentoring is our most common genre of client. So we know all the publications that want to hear from business coaches with their unique ideas for advice articles, and the events and podcasts that want to feature them.
Case Study
Sian Winfield
Startup Business Coach and Founder of Co Startup & Go
Sian is a veteran in the startup coaching industry having developed strategies for remote working before it became mainstream. She was ready to expand her reach and share her expertise in new formats.
Our team worked with Sian to produce her podcast, Cracking on with Purpose including sourcing potential guests, secured two online talks and advice articles in Business Express and Authority Magazine.
For business coaches starting out we recommend The Personal PR Kickstarter. For established coaches looking to be a regular commentator, we recommend the Full Service Personal PR
Check out all our packages
Personal PR for Academics
Academics need a profile to get funding. It's no longer enough to submit a report . They have to demonstrate they can influence policy.
Without an online presence, it's common for researchers to find that their peers with similar backgrounds get quoted in the media and asked to speak at events more than they do!
Case Study
Jacqui Webster PhD, The George Institute
Jacqui is a distinguished researcher in food policy and salt reduction.
As an academic, she'd been quoted in journals and spoken at many academic events, but wanted her research referenced in the mainstream media. She also wanted to know how to be more active on Twitter and LinkedIn and find the conversations and influencers relevant to her industry.
We provided a PR strategy and with regular calls we guided her on shaping her talking points for mainstream media, pitching articles, shaping a social media strategy and finding events to speak at. After the Personal PR Kickstarter package ended, she had the skills to carry on developing her thought leadership alone.
For academics we recommend our Personal PR Kickstarter
Check out all our packages