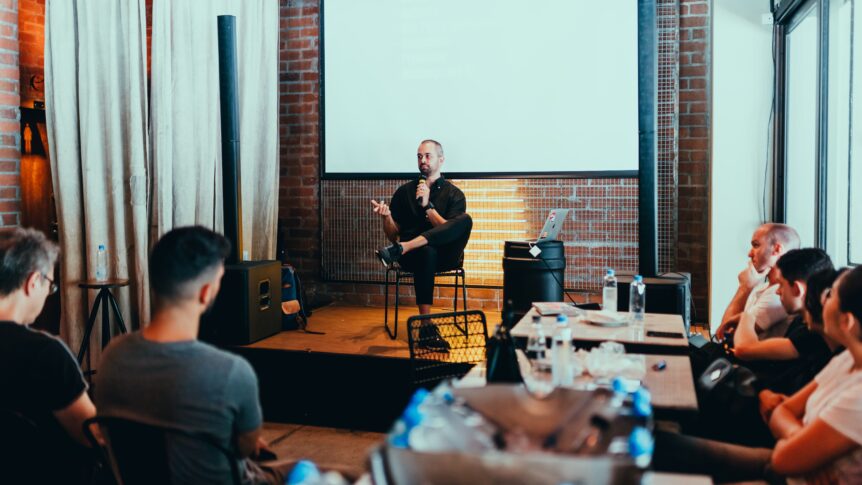 How to get public speaking engagements
Whether you are a business leader, academic, industry expert, startup disruptor or charitable founder, you will know that public speaking engagements can take your career to the next level, raise awareness of your work, attract funding, and help you become known as a thought leader.
In this article, we share our tips, based on our professional experience, for finding speaking opportunities, writing a pitch to event organisers and how to deliver a great talk.
Using Speaker Callouts
If you don't already have a specific conference or event you want to target, a good first step to finding a speaking opportunity is to identify conferences that are actively looking for speakers.
Set up a Google Alert for 'speaker callout' or 'callout for speakers'. Conferences sometimes publish callouts for speakers when they are looking to fill slots. You can also search LinkedIn and Twitter for the hashtag #speakercallout.
Speakercallout.com is a new website we spotted, soon to launch, dedicated to matching event organisers or webinar hosts with industry experts looking for speaking opportunities. Another useful website which lists industry conferences and events is the-iceberg.org.
Search Trade Publications
If you are an expert in your sector, another useful resource is to look at your industry's best-known trade publications. Industry publications often have event diaries, or event listings, which you can scan to find events which could be a match for your subject matter expertise.
Give yourself plenty of time to get in touch with the organisers ahead of large conferences because talks and speakers will be planned months in advance. Also keep in mind, the busiest period for conferences is October, followed by February to March, and August to September.
Writing Your Speaking Pitch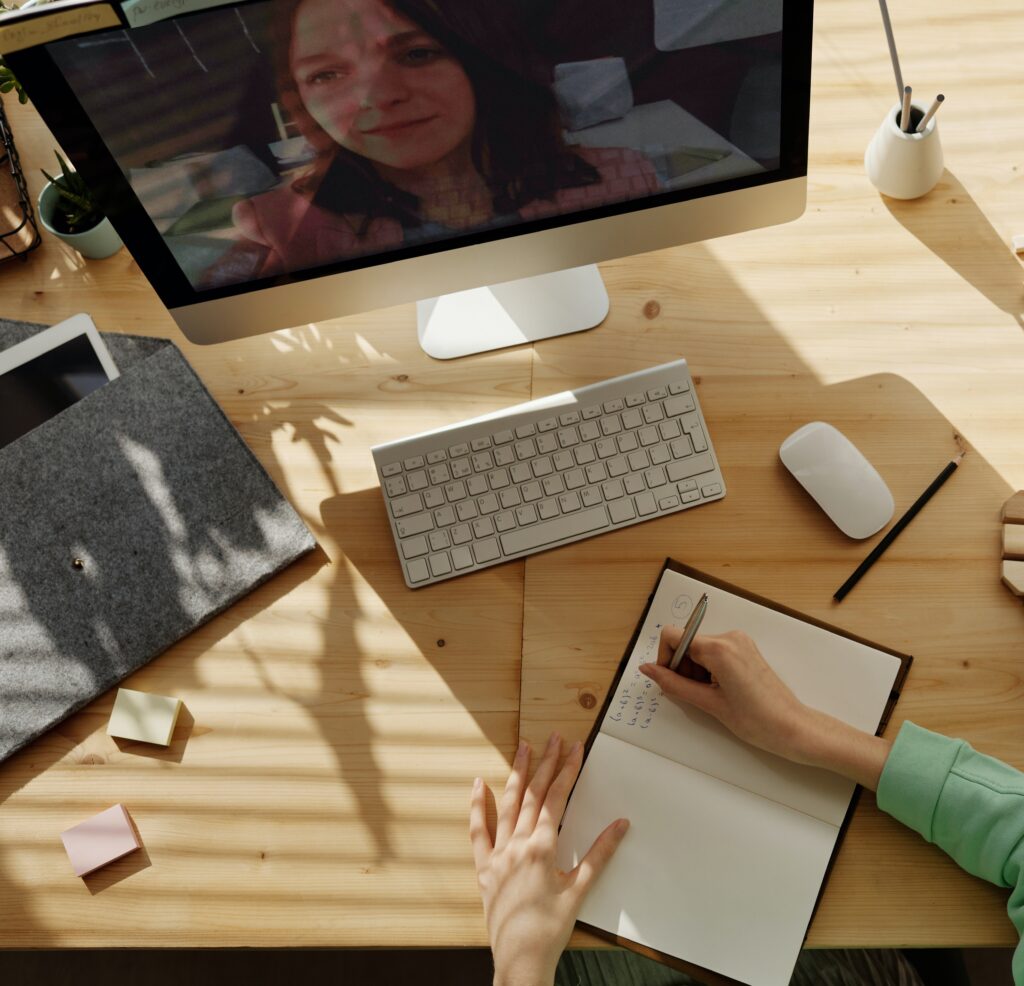 When it comes to sending an email to pitch yourself as a speaker to an event organiser, make it as easy as possible for the event organiser to identify how you can add value to their audience. This means that when you approach them, you need to communicate a relevant topic that you can speak about with authority, and also singal that you are a compelling speaker.
So, in your email, we advise that you include the following:
A bullet point list of your expertise. This makes it easier for organisers to scan the list and think which panel or theme you are best suited for. Don't suggest a ready-made talk idea unless you are pitching for a specific panel or speaking opportunity because it might not be a good fit for the event.

A link to your profile on a business website and/or LinkedIn which includes a professional headshot of you. It's important that your LinkedIn profile is up-to-date and that you appear to be actively engaging with your network to demonstrate that you already have a following. For advice on how to showcase your credentials as a thought leader on LinkedIn, you can read our blog on this topic

here

.

If you have spoken at public events in the past, you should mention them and the names of any high profile speakers you may have shared a stage with.

A video of you in action. If there is existing footage of you speaking publicly, then share a link to it and get as many of your contacts to 'like' and 'share' it to demonstrate that you are interesting to an audience.

As you get more speaking experience, you can create your own YouTube channel to upload footage of you speaking at events to use for future pitches.
If you need inspiration for writing your public speaking pitch, check out some of the profiles on Speaker's Corner to get an idea of how thought leaders in your industry market their expertise. Also, remember to think about how you stand out from other speakers. For example, if you are a woman working in STEM, a sector in which more men work than women, you should mention your gender in the pitch because organisers might be looking for more female speakers.
Most importantly, make sure you are pitching to the right person! Carefully read their job description before you send an email to them. There are many different roles which could book speakers from 'event organiser' to 'producer' to 'curator'. We've built up a sense of who does what from our experience of pitching our clients.
Preparing for Your Talk
Once you secure a public speaking engagement, the daunting part is preparing your talk! Whether it's a keynote, a panel or a fireside chat, keep your points to a minimium. Having too many messages can create 'analysis paralysis' when you're trying to fit too much in and you will risk losing clarity. So, prepare three to four main points that you know you want to talk about.
Once you've identified your three main talking points, hone your takeaways for each point in one sentence. This helps you understand what your overall message is. It will be easier to work backwards to decide what points to group into that point. Crucially, imagine being an audience member and ask yourself, what would I be entertained or surprised by?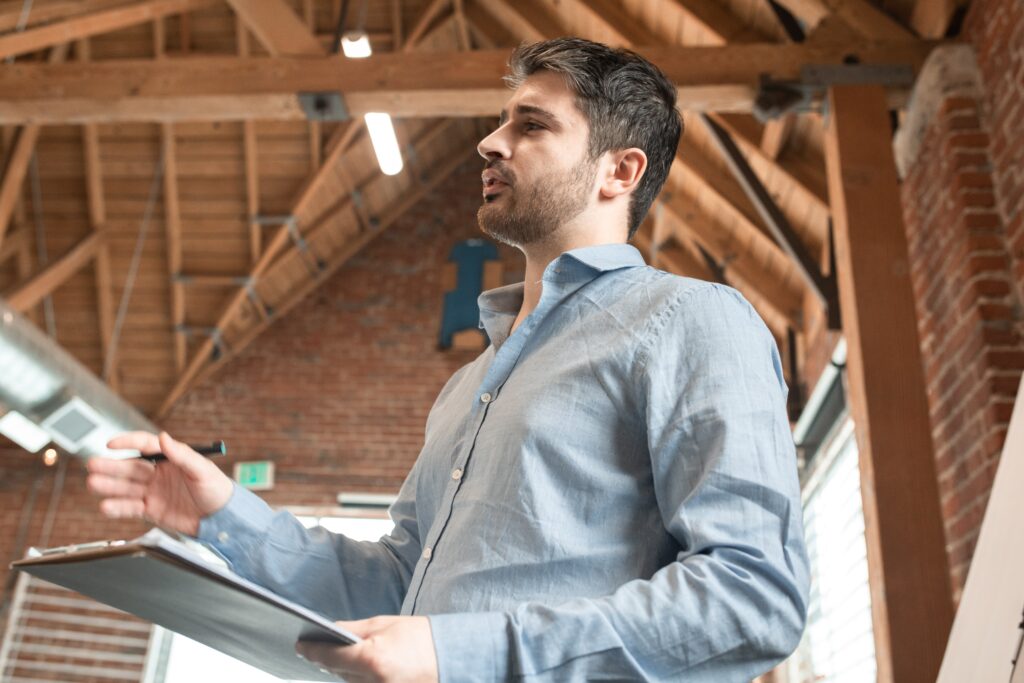 Finally, even if you are speaking at a trade event, ditch the jargon and industry-speak as it won't engage people. But also, don't water down your points. Imagine you are speaking to an intelligent dinner party guest, rather than your boss or colleague. 
Delivering your Talk
We recommend developing a set of bullet points to help guide you through, rather than memorising or reading from a script.
Writing for Harvard Business Review, Chris Anderson the creator of TED, advises against reading, even from a teleprompter, and advocates strongly for memorising. At Thought Leadership PR, we agree. Reading creates a distance between you and the audience and removes the entertainment value. Your audience could have just listened to a pre-recording!
Answering Q&As
Most public speaking engagements factor in a Q&A with the audience following your talk, so it's a good idea to prepare yourself for any challenging questions the audience might throw at you.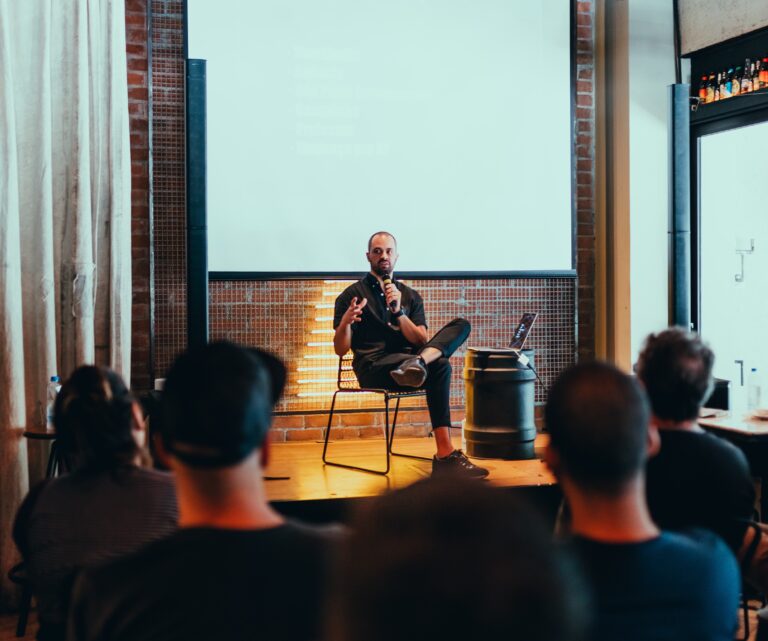 A good technique to get out of a question you don't want to answer is 'bridging'. This means using a phrase to move away from their question you don't want to answer, to one you are able to. For example, you can say 'That's an interesting point but I feel the bigger question is…' or 'I can't speculate on that but what I can confirm is…'.  
Another tool is to pause before and after you have answered the question. This signals that you are finished answering the question, and prevents waffling.
Professional help to secure speaking engagements
Here, at Thought Leadership PR, we specialise in raising our client's profiles which includes finding and securing speaking opportunities. We have found speaking engagements for our clients at events like TechCrunch Live, CogX Summit, Big Tent Festival of Ideas, Management Today: Leadership Lessons and many more.
As part of our service, we also prepare and support our clients so that they feel confident that they will give a great talk and become better public speakers.
To get a flavour of how we help our clients, check out our first ever webinar on profile raising strategies for consultants and coaches with speaking coach Alex Merry and Denise Brousseau.
Or book a discovery call to see if we can help you.