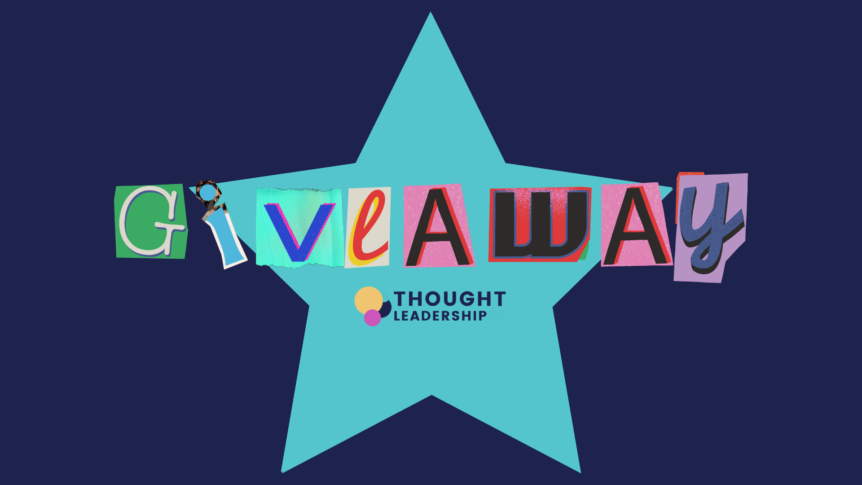 Win a Personal PR Kickstarter Programme!
PR Giveaway
We are giving away one of our popular Personal PR packages for free. 
What's the catch, you may ask?
Because we want to know how we can improve our product and so all we ask is for whoever wins this great giveaway that you tell us what the process is like from a client's perspective and give us honest feedback about how we can improve and leave us a public testimonial. We are ALWAYS looking for ways we can improve for all our levels of service and this is the most honest way for us to find out!
Our Personal PR Kickstarter Programme is designed for individuals who want to spread their expertise in their field and become more widely known. It is popular with authors, academics, entrepreneurs, coaches and more. As the name suggests, it is a powerful kickstart for your personal brand.
The service normally costs £2,900 so we want to offer it to the most deserving aspiring expert!
How to enter
Here's how to enter: Simply, click here to fill out a quick form with your details and a bit about you. That's it! 
The contest will run from May 1st 2022 for two weeks. We'll be announcing the winner on May 16th 2022. (lookout for the announcement on our social channels and in your inbox) 
How our Personal PR Fixed Fee Package works
On our Personal PR Kickstarter package, we offer guaranteed outcomes – something no other PR agency offers (to our knowledge). How do we keep our costs low? You decide which deliverables we focus on, and we focus on only those. We aim to work with your for 8-10 weeks though this really depends on how easy your subject-matter area is to secure media coverage. But we just keep working until we deliver on everything we promise.
Some of our deliverables are PR focussed (media coverage, securing a talk, securing a broadcast interview) and some are marketing related (social media strategy, SEO audit, digital ads). Our approach to personal branding is holistic and we mix and match the strategy according to what will work best for our clients.
What we need from you
The only thing we ask is that after the PR programme finishes, you give us honest feedback about our services, our team, the tools we use and our overall professionalism. And you leave us an honest review.
Know someone who you think deserves this giveaway too? Forward them the link so they can have the chance to kickstart their media debut with our Kickstarter programme. 
GOOD LUCK!
Giveaway T&Cs:
By entering the promotion you agree to disclose your details (name) for the purposes of dispatching your prize and publicly announcing a winner upon acceptance. This also indicates your agreement to be bound by these terms and conditions.
No responsibility can be accepted for entries not received for whatever reason.
Any defamatory disclosure on the competition or elsewhere, whether related to or irrelevant to the promotion will be excluded from the winners' selection processes.
There is no cash alternative and the prize cannot be transferred in any way, but the winner can refuse the prize if they so wish.
All participants must be 18 years of age or older
Winner(s) will be notified by e-mail, DM, private message and all available lines of communication provided on the end date of the promotion for which their name/alias shall be published on all our social media channels.
If the winner cannot be contacted directly or does not claim the prize within 48 hours of notification, we reserve the right to withdraw the prize from the winner and announce one replacement winner. Add that we will only try a winner and 1 replacement
Any personal data relating to the winner or any other entrants will be used solely in accordance with current data protection legislation and will not be disclosed to a third party without the entrant's prior consent.