Full Service Thought Leadership Programme
Full thought leadership strategy to establish industry expertise.
In today's digital world, a business leader needs to be the human face of a business. It's no longer acceptable to rely on press releases and newsletters. Clients want to know the CEO's opinion; the media want to know their vision; other entrepreneurs look for their personal advice and stories.
We immerse ourselves in your business or project and develop a comprehensive strategy to improve the profile of the founder, CEO or team of executives at the helm.
This is our top-tier level of service, in which we do everything required to build your reputation as a respected industry expert, and reduce the time demands on you.
This means that no only do we suggest article ideas for the media, but we will ghostwrite the first draft for you; Not only will we find possible speaking engagements, but we will write that tricky talk outline for you; Not only will we keep on top of the news so that we can suggest you as a commentator, but we will draft any quick quotes required from you.
What sets us apart from other PR agencies is our media experience. All our media strategists are former or working journalists so they are experts at recognising your story angles and writing them in a way that the media will accept. You'll be surprised at how well they can capture your voice or the complex nuance of your views. We are writers – that's what we do!
You will also have your own Social Media Strategist, who will shape and supplement your LinkedIn presence, improve the SEO for any personal or business website and keep track of how you show up in online searches.
Our activities are bespoke to every client. But typically, our results include:
Our signature Personal Branding Strategy
Suggesting, placing and ghostwriting thought leadership articles for target publications
Securing profile interviews or Q&As in business or mainstream media
Securing speaking engagements at industry conferences, webinars, or workshops.
Booking interviews on popular podcasts or radio shows
Supplementing your Linkedin activity to build your profile and get you in front of influencers
Advice on the wording and SEO for any personal or business websites
Creating your own thought leadership content such as blogs, webinars, videos
Preparing you for interviews with media training
Applying for industry awards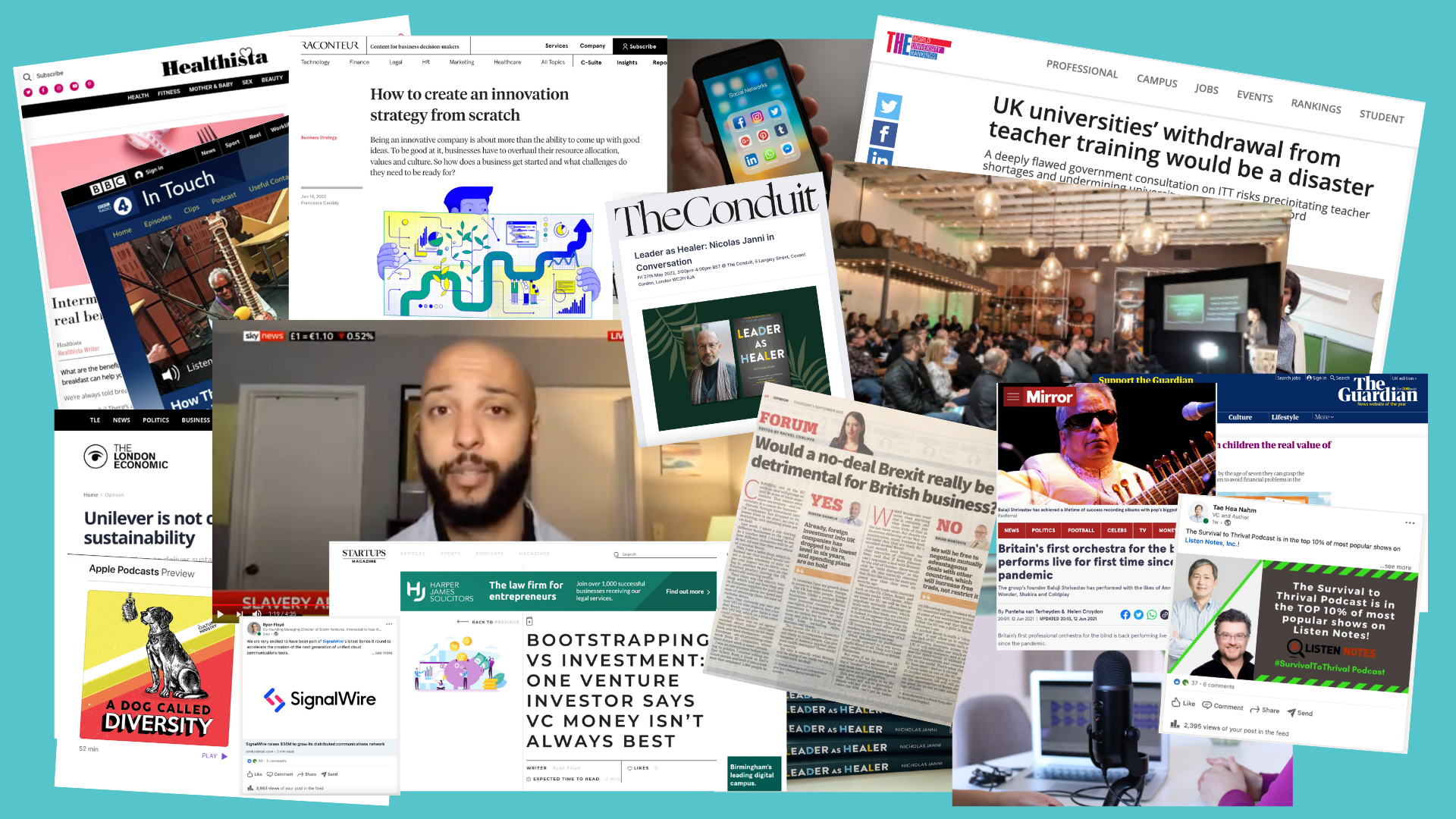 Full Service PR client testimonials
Tae Hea Nahm​
Co- Founder of Storm Ventures
"Helen has been the missing link for me becoming a thought leader for building enterprise leaders. Helen complemented my domain expertise by driving awareness and branding. She got me a high profile speaking engagement at Collision and helped me write articles around my books and placed them in publications targeting entrepreneurs. I enjoy my weekly call with Helen and am impressed by her follow through."
Dinesh Dhamija
Liberal ​Democrat MEP
"I'm impressed by Helen's multi- skills. She helped me with many aspects of my MEP publicity campaign after putting myself forward to be London MEP in the May 2019 Euro elections, advising on the wording of my website, filming short videos for social media, finding press opportunities and giving an overall advice. Being an ex journalist she is good at matching the things that I am passionate about and can talk with authority on, to the topics in the news.​"
Execuitve
Execuitve​ Quintessentially
"Helen secured high profile press coverage including The Evening Standard and Worth magazine, and not only did she get me a high profile speaking engagement at Web Summit, but suggested a format where I could invite some of my contacts for a panel talk, making it a brilliant relationship-building win for us. She briefed me before interviews and cleverly anticipated questions. She also drew out some personal angles from me as well as the obvious business ones. I enjoyed working with her and she's been on the look out for opportunities for me even after stopping working together."
Baluji Shrivastev
Musician & Charity Founder
"It was a pleasure working with Helen Croydon. She secured us some great coverage across a wide range of media including Radio 4, BBC London News, ITV London News, The Sunday Mirror, Times Radio. She is smart, efficient and well connected"